Cavalli Stables Mobile Detailing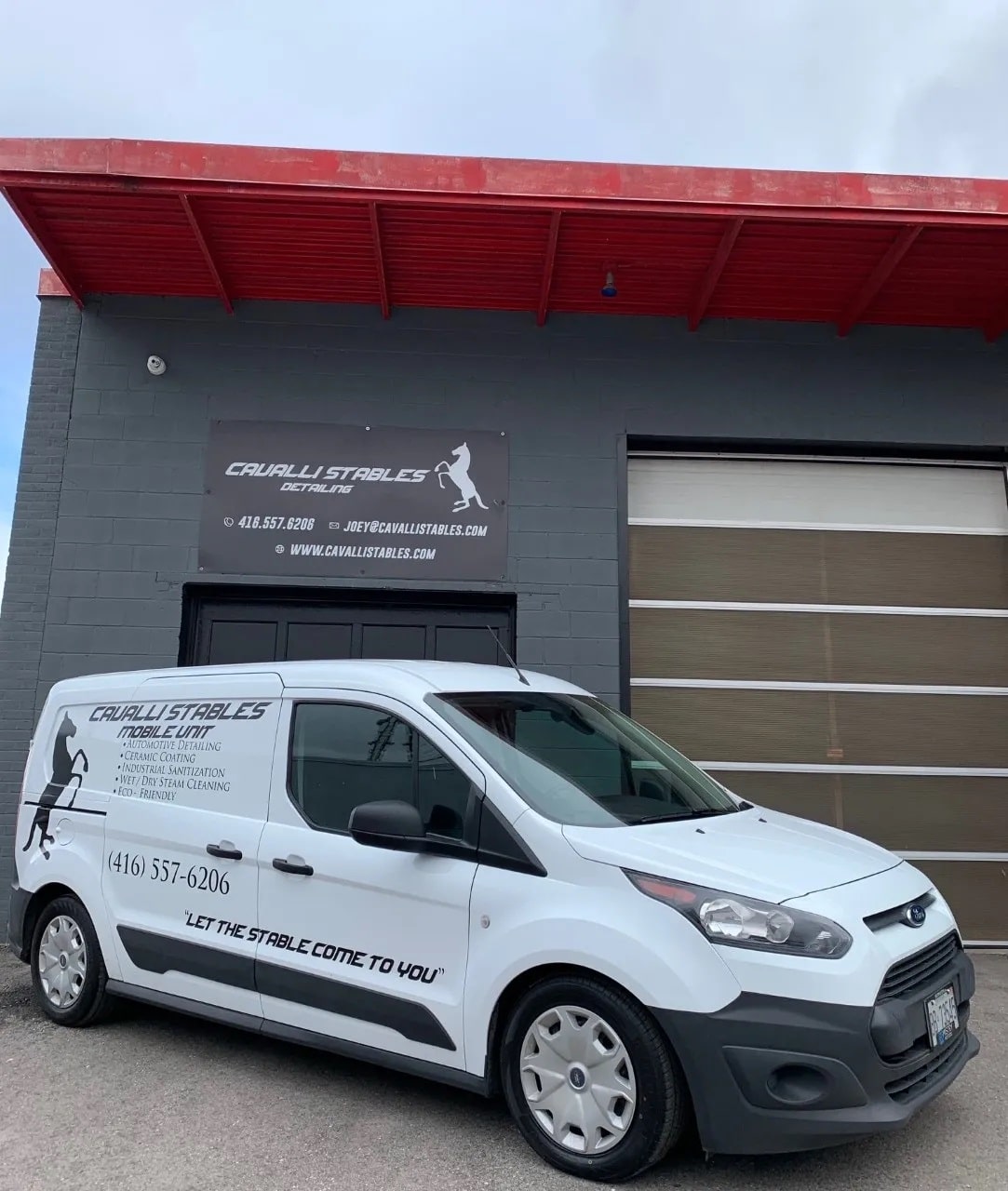 Cavalli Stables mobile cleaning offers a revolutionary way to clean. With the use of steam vapor, we are able to powerfully clean, sanitize and disinfect a variety of different things including, but not limited to: vehicle interior and exteriors, furniture, public areas, medical clinics, daycares, restaurants, gyms, and public transit vehicles. We are able to safely, effectively, and naturally disinfect anything that comes in contact with bacteria, all in the comfort of your home, office, or business.
Benefits of Steam Cleaning
Our pressurized steam works at 212 °F, killing 99.9% of bacteria, germs and dust mites. This includes E.coli, salmonella, staph bacteria, viruses and other microorganisms that may live in your vehicle, home or business. We are able to eliminate the use of harsh chemicals and naturally clean dirt, grime stains and remove odors. Steam is safe for both hard and soft surfaces, and with the pressurized element, we can ensure that fabrics and upholstery are deeply penetrated and effectively cleaned. We can offer both wet and dry steam, catering to both delicate and durable surfaces and materials.
We believe in great results without compromising the health of our clients, employees, or the planet. We know that protecting the environment is important to our consumers, which is why we pride ourselves in exercising Eco-friendly practices. For example, an average car wash uses approximately 30-50 gallons of water per wash. Our revolutionary system uses less than 1 gallon of water to clean a car. This greatly reduces waste water runoff and eliminates the potential for harsh chemicals to enter the storm drain. Typical car wash and sanitization companies use extremely harsh chemicals that cause damage to different types of metals , plastics, rubbers, and other materials. Chemical runoffs harm the ecosystem by polluting our lakes, oceans, land, crops, and natural environment. Our process does not allow this to happen, making it the logical Eco-friendly choice.
We want to make it easy and convenient for you. Our mobile unit can go virtually anywhere. Common locations include, but are not limited to: ● Homes ● Offices ● Businesses ● Public and private parking lots ● Condos ● Townhomes
Potential applications include, but are not limited to: ● Dealership inventory ● Private vehicles ● Boats, helicopters & planes ● Chauffeur & limo fleets ● Tour buses ● Public transit including LRC, Go train, buses ● Medical clinics ● BBQ's ● Golf Carts ● Furniture & personal items ● Daycares ● Restaurants ● Windows ● Sidewalks & floors ● Baby seats & carriages ● Lawnmowers ● Shopping carts ● Movie theatres ● Wheel chairs ● Public & private bathrooms ● Fitness gyms